Congestion Management Process
The Congestion Management Process (CMP) is a systematic approach, collaboratively developed and implemented throughout a metropolitan region, that provides for the safe and effective management and operation of new and existing transportation facilities through the use of demand reduction and operational management strategies. The CMP is required to be developed and implemented as an integral part of the metropolitan planning process in Transportation Management Areas (TMAs) – urbanized areas with a population over 200,000, or any area where designation as a TMA has been requested. The CMP represents the state-of-the-practice in addressing congestion, and should be considered in metropolitan areas that are facing current and future congestion challenges.
The Congestion Management System has been described as a "7 Step" process; with the addition of a new "first step," the Congestion Management Process is an "8 Step" process, as follows:
Develop Congestion Management Objectives
Identify Area of Application
Define System or Network of Interest
Develop Performance Measures
Institute System Performance Monitoring Plan
Identify and Evaluate Strategies
Implement Selected Strategies and Manage Transportation System and
Monitor Strategy Effectiveness.
The Northwest Arkansas Regional Planning Commission recently developed the CMP for the region. A Congestion Management Process TAC (Technical Advisory Committee) sub-committee was also established to implement the initial phase of the CMP. The following links relate to this study.
Congestion Management Process (CMP) Final Report – May 22, 2015
Sources for Traffic Congestion:
The graphic below illustrates the main sources for traffic congestion: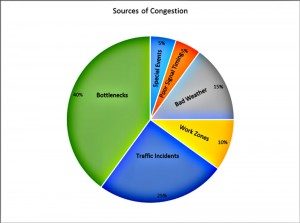 Click graphic to enlarge
For Live Traffic Conditions, Construction Zones, or Winter Road Conditions please visit the Arkansas Highway and Transportation Department's IDriveArkansas link.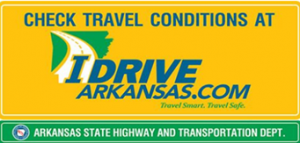 Northwest Arkansas Congestion Management Corridors:
The Northwest Arkansas Regional Planning Commission Policy Committee identified the following traffic congested corridors:
Map of the Northwest Arkansas Congested Management Process Corridors approved by the Policy Committee on July 24, 2013.
Managing Traffic Congestion:
There are a variety of approaches and planning tools for managing traffic conditions at a regional as well as local scale. In Northwest Arkansas, cities have implemented adaptive signal control stations for a sections or roads and intersections. Below are listed a few examples of these signal control installations and evaluations:
Highway 265 Access Management Plan – This study was part of an agreement between the city of Fayetteville, the Arkansas State Highway and Transportation Department and the Northwest Arkansas Regional Planning Commission to protect the capacity of the roadway, improve safety for drivers, bicyclists and pedestrians. The agreement was executed in 2009.
Congestion Analysis and Performance Measures for Northwest Arkansas:
The Interstate I540 Improvements Study prepared by Parsons Transportation Group in 2006 considered the needed Interstate widening and focused on an analysis of nineteen interchanges in order to recommend short-term, interim and long-term improvements. The study developed the following:
2024 travel demand forecast for I-540
Identified Congestion Segments
Calculated 2006 and 2024 Level of Service
Recommended Interstate widening
Analyzed nineteen interchanges om I-540
The Northwest Arkansas Eastern North-South Corridor Study was completed in 2011 and analyzed the need for improvements to an eastern north-south corridor in order to alleviate the traffic congestion on the existing north-south routes, especially Hwy 71B. The study extended from Hwy 16 in Fayetteville to Hwy 62 in Rogers, with a potential extension to Bentonville.
Highway 112 (Razorback Road and Maple Street) Improvement Study was completed in 2010 by the Arkansas Highway and Transportation Department. The study was conducted to determine the appropriate cross-section for improvements ti Hwy112 along Razorback Road and Maple Street between Hwy 180 (Martin Luther King Blvd.) and Garland Ave. through the University of Arkansas campus in Fayetteville.
In the summer of 2012, The Northwest Arkansas Council contracted with The Texas A&M Transportation Institute to complete a study on "Traffic Congestion in Benton and Washington Counties" The study focused on eight corridors consisting of approximately 40 miles in Northwest Arkansas. The study analyzed delay per mile, calculated a travel time and planning time index, and calculated the cost of congestion for the Region based on third party historical speed data. The most congested corridor based on the TTI methodology was the US 412 corridor from SH 112 to US71B. The table below summarizes the findings for each analyzed corridor:
Rank
Roadway
County
From
To
Delay per Mile1
Travel Time Index3
Planning Time Index4
Annual Congestion Cost ($mil)2
1
US-412
Washington
SH-112
Thompson
136,900
1.41
8.35
12.6
2
US-71B
Benton
Central
Moberley
130,200
1.10
2.80
11.2
3
College
Washington
Lafayette
Main
107,100
1.23
4.14
10.9
4
Walnut
Benton
I-540
W. Hudson
99,600
1.08
2.70
10.6
5
US71
Benton
SH 340
N Walton
62,000
1.28
3.87
6.2
6
Thompson
Washington
Main
County Line
58,500
1.13
4.82
6.5
7
I-540
Washington
US62
SH112
24,700
1.08
1.63
2
8
I-540
Washington/ Benton
Pleasant Grove
Elm Springs
17,900
1.07
1.70
2.4
Non-study Roadways5
17,050
1.08
2.02
40.8
Total or Average
32,200
1.10
2.35
103.2
1. Delay Per Mile—Extra travel time during the year due to congestion, divided by the corridor length. Primary measure
used to rank roadway segments in this analysis.
2. Cost of congestion – Value of time delay and excess fuel consumption based on an hourly rate of $20.50 per hour of delay.
3. Travel Time Index – A ratio of travel time in the peak period to the travel time at free-­-flow conditions. A value of 1.30
indicates that a 20-­- minute free-­-flow trip takes 26 minutes in the peak period.
4. Planning Time Index – Represents the total travel time that should be planned for a trip. A PTI of 2.50 means that for
a 30-­-minute trip in light traffic, 75 minutes should be planned to reach a destination on time.
5. These roadways include freeway, major arterial and minor arterial roadway segments in Benton and Washington counties
that were not analyzed in the 8 study segments.
Source: Texas AM Transportation Institute, 2012